Welcome to Clairissa's nannynetwork.
Are you a nanny that would like to know of other nanny's in your area to socialise with? Then nanny network can help you.
What is a nanny network? Nannynetwork will inform you of other nanny's within the area that you live in. So that you can talk, write and meet up with them.
Why have a nanny network? It is recognised that nannying can be a isolated and lonely job. If you have moved to a new area for a nannying job, it may seem quite daunting not to know many people. Nannynet will put you in touch with nanny's in the area you work in, so nannying dose not have to be lonely, but could be the being of your social whirl.
How do I join the nanny network? To join fill in the application form and summit it to Clarissa's nanny network, plus a £6.00 One off joining fee.
What do I get for my fee? Up to date information of the nanny's operating in your area and other areas if you wish, that would like to hear from you.
Confidentiality All information submitted to nanny net will be treated confidentially. Only personal information of which you agree to be passed on to others within the application form will be given.
To all the nannies who have written, I thank you for doing so. I will get back to you as soon as I can. Clairissa
This page was last updated on 23-Feb-2005.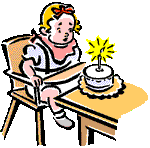 Email: Nannynet@clairissa.co.uk
Link to Care of nannies web site